Inspiration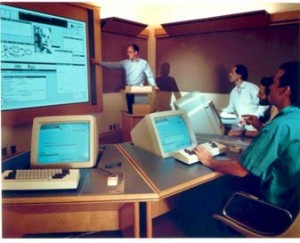 The Colab project (1987-1992) was born in the late 1980's out of frustration with the transient and immovable nature of information on whiteboards. Researchers in PARC's Knowledge Systems Area were enthusiastic users of white boards. We covered the boards with diagrams and writings as we designed programs and various formal representations of circuits. We outlined papers together, and even had an effective brainstorming process for incrementally developing our ideas. But after a meeting we wanted to capture the information in our computers. This meant moving a workstation to the white board area, booting it up, and typing in the information.
We wondered how we could capture the benefits of our collaboration during our meetings. We had the idea of creating "public windows" on our workstations. We wanted to create software that would allow any of us to write or edit in a window, and arrange it so that others in the group — at their networked workstations — could access and share the information.
We decided to build a room — the "CoLab" (or collaboration laboratory) — to house the workstations (connected to PARC Dorados), to use for our group meetings, and to instrument to conduct experiments on new kinds of computer-mediated meetings.
Building the Colab
Design work for the Colab project involved not only software, but also designing:
Meeting room software — as reported in the papers below.
A room with appropriate lighting so that people could see other and not get light reflections on their displays.
Desks (with motors for raising and lowering the displays)
An "electern" with a keyboard that could be raised and lowered to a convenient height
A room-scale display screen (the first generation PARC Liveboard) using a rear-projection video projector
Position-sensing for the liveboard. (We had both ultra-sonic and laser-based designs.)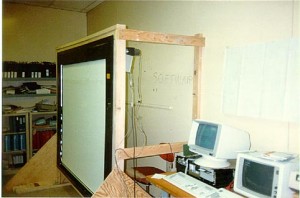 The Xerox skunkworks in Webster, New York built us our prototype liveboard. The image surface was a large frosted glass pane. In the upper right corner was a laser device with a rotating polygon, such as was used for imaging in a Xerox copier.  Mirrors and retro-mirrors were put on two edges of the board. When you touched the board with a finger or pen, it interrupted the beam — making it possible to compute the coordinates of the touch point. We also built an ultrasonic-based device for computing locations on a big board and developed a patent for it (which Xerox is now licensing to various parties).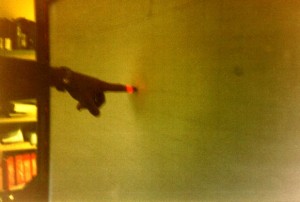 We did not want to loose the emotional impact of a big white board — something that you view from ten feet rather than ten inches.  The image on the liveboard was produced using a Hughes video projector in the next room.  Four dorado workstations powered our software. Osburne Design of San Francisco worked with us to develop the modular desks and lighting for the room so that there would be no reflective glare on the workstations or liveboard.
New Kinds of Meetings
Colab meetings tended to be fast-paced and exhilarating. It seemed that we could work very fast. One reason for this was that the tools shifted much of our communication to a visual channel rather than the audio channel — so it was possible for more than one person (or subgroup) to talk at once — and still keep up. Another difference was that the computers maintained a tangible, persistent, and shared representation. You could always go back to some object in the visual workspace and ask for clarification. One person could control the view temporarily, and draw other people's attention to something.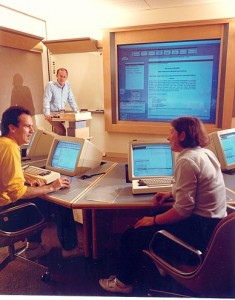 One of the goals of the Colab project was to study systematically how behavior in computer-augmented meetings differed from regular meetings. We wanted to understand how computers could make a difference and to design meeting software that could make the biggest difference. The photograph below shows out "meeting analyst's workstation". From here, an analyst could control video from three cameras in the room and also record electronic meeting events. The seated people in the photograph below are Gregg Foster and Deborah Tator. Gregg completed his PhD thesis on Cognoter and was involved in designing next generations of meeting tools. Deborah Tatar was engaged in studying meeting behaviors.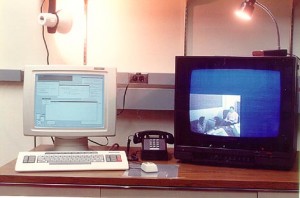 Imagining the Future of Meetings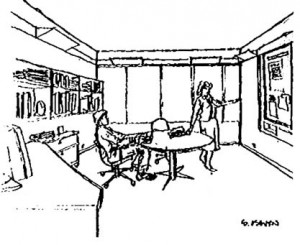 We noticed that meetings often started when one person joined another in an office. Although a collaboration was starting and we liked using computer support for collaboration, it a bother to go off to the computer-equipped meeting room, to patch in the computers, and then to boot up the room. We wanted tools thta we could use instantly in someone's office. We imagined putting liveboards and livepads in offices as in this picture.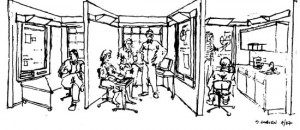 This led to the idea of "portable meetings" — and ultimately — to portable ideas. We proposed  honoring the inventiveness of groups and the "genius of organizations." Mark Stefik and John Seely Brown wrote a paper about the idea of portable meetings for portable ideas.  We proposed building liveboards thin enough to put them in everyone's office. We imagined people walking from one office to another or even to a kitchenette and saying "look at what we've been doing." They could walk up a liveboard, log in, and then resume or branch a meeting.
A workshop organized by Joshua Lederberg and Keith Uncapher in 1989 triggered a cross-over between our work on technology for collaboration in small groups and our later work on sensemaking at larger scales.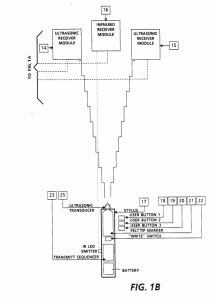 Patents
Patent 4,974,173, Stefik, M.J., Bobrow, D.G., Lanning, S.M., Tatar, D.G., Foster, G.S. Small-scale workspace representations indicating activities by other users. Nov. 27, 1990.
Patent 4,814,552. Stefik, M. J, Heater, C Ultrasound position input device,  March 21, 1989.
Papers
Stefik, M. J., Foster, G., Bobrow, D.G., Kahn, K., Lanning, S., & Suchman, L. (1987) Beyond the chalkboard: Computer Support for Collaboration and Problem Solving in Meetings. Communications of the ACM, 30:1, pp. 32-47, January 1987. (Reprinted in Greif, I. (Ed.), Computer-supported cooperative work. San Mateo, California: Morgan Kaufmann Publishers, Inc., 1988, pp. 335-366. Also reprinted in Marca, D. & Bock, G. (Eds.) Groupware: Software for Computer-Supported Cooperative Work, Los Alamitos, Calif. IEEE Computer Society Press, 1992.)

Stefik, M., Bobrow, D.G., Foster, G., Lanning, S., Tatar, D.(1986)  WYSIWIS Revised: Early experiences with multi-user interfaces. Proceedings of the Conference on Computer-Supported Cooperative Work, pp. 276-290, Austin, Texas, December 3-5, 1986. (Reprinted in ACM Transactions on Office Information Systems, 5:2, pp. 147-167, April 1987. Also reprinted in Baecker, R. Readings in Groupware and Computer Supported Cooperative Work, San Mateo: Morgan Kaufmann Inc., 1992).

Foster, G. & Stefik, M. (1986) Cognoter: Theory and practice of a Colab-orative tool. Proceedings of the Conference on Computer-Supported Cooperative Work, pp. 7-15, Austin, Texas, December 3-5, 1986.

Stefik, M. & Brown, J.S. (1989) Toward Portable Ideas. In Olson, M.H. (Ed.), Technological Support for Work Group Collaboration, pp. 147-165, Hillsdale, New Jersey: Lawrence Erlbaum Associates, 1989. (Excerpted in Stefik, M. Internet Dreams, Cambridge: The MIT Press, 1996, pp 327-343).